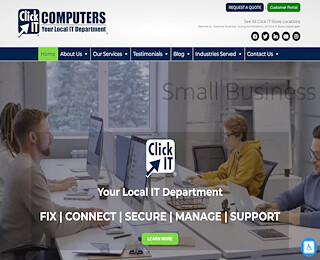 Click IT Computers makes it easy to set-up at-home laptop repairs in Parma, Ohio; simply schedule a visit with one of our technicians to come by and diagnose your laptop problems and we'll get to work quickly making repairs. If you prefer, drop your laptop off at our computer repair shop and we'll have it ready for you to pick up, typically in less than 24 hours. No computer problem is too big or small for our experts to resolve, whether it's a slow system, viruses or cyber issues, failure to start, or errors. Feel free to get in touch with us by phone to discuss the problem with our team.
3 Easy Steps To Getting Your Laptop Repaired at Click IT Computers
Step 1: Make a call to our computer store to discuss the issue you're having with our team. Let us know if you'd prefer to bring your computer in or have us come out and make repairs. While you're on the phone with us, we can make some basic recommendations that may help you troubleshoot the problem at home before you determine your laptop needs to be repaired.
Step 2: We'll give you an estimate for the costs or our services, whether it's fixing hardware problems, removing viruses, data backup and recovery, etc. If you like what you hear, set up the repair- be sure to let our staff know if you'd like to request AQAP service (As Quickly As Possible), which will put your repair ticket at the front of the line, before all other work we're doing. Drop off your laptop or have it worked on in the comfort of your home.
Step 3: Once our technician has restored your laptop to efficient performance again, we can let you know how to go about avoiding the same problems in the future. Preventive computer maintenance will keep your system operating correctly in the months to come. Keep our number handy in the event that you need Managed IT services in your home or workplace.
Reliable Managed IT Provider & Computer Repairs
From time to time, it's natural that you would need someone to take a look at your laptop or PC when things go wrong. You can reduce laptop repairs in Parma, Ohio by reaching out to our techs at the first sign that something is not right with the speed of your system or when dealing with repeated errors. We welcome your phone call at 216-930-5503 whenever you have questions for our team.
Laptops, PCs, And More
Click IT Computers is committed to making sure your electronic devices are working properly; in addition, we believe in providing repair services at an affordable rate. If you're in search of a repair shop that has your goals in focus, give us a call when you need a screen repair or replacement, internal PC component replacement, battery replacement, electronic repairs, and other computer-type fixes. No one cares more about meeting your needs than our pros.